What's On
The amazing story of our logboat retold !

Do look in on the BBC1 programme 'Weatherman Walking' on Friday 23rd April (starts 7.35). Jamie Davies returns to his favourite museum to tell the story of how we acquired this remarkable artefact. After watching on TV, look forward to coming an seeing the logboat at our Museum, which will be opening in the not too distant future - watch this website....
---
Competition: Name the Skeleton
---
Ready to Go!
The Museum has already been awarded the 2021 Ready to Go award.
---
St David's Day
This St David's Day - remember YOUR museum.
---
---
---
---
Newyddion Agor
Re-opening News
Not opening yet, but work in progress, so watch this space!
We are not opening today (July 27), or indeed in the near future, but we are working on making our lovely museum safe and ready for you to visit as soon as possible.
We gratefully acknowledge grant aid from the emergency Heritage Fund, and wish especially to thank Lottery players for making this grant available to endangered heritage sites. Thanks to your help we hope, eventually, to return to scenes like this...
A selection of our activities, we're so much more than just a museum!.
---
---
To open or not to open...
The Steering Committee and Staff here face a difficult decision now that the Government has given the green light for Museums to re-open later this month. We will not rush in.
The safety and health of all, staff, local people and visitors, is our paramount consideration. We will not take any risks, and only if every precaution possible is in place will we be opening our doors this year. We are committed to looking after you.
Any questions or comments welcome: afllmm@yahoo.com
---
---
IMPORTANT MESSAGE
Our justgiving page address has been changed ; please note the new address and send it on to a few friends!
https://www.justgiving.com/crowdfunding/amgueddfaforwrolllyn?utm_term=42mmXqwxn
---
JUSTGIVING
Our appeal through justgiving to raise essential money to pay our bills this summer has now reached 80% of the target - land is in sight, lads ! One last effort and we should be in the harbour. Many thanks to all who have contributed and passed the linc on to others, it's wonderful to know we have so many friends!
---
OUR VIRTUAL QUIZ
The virtual quiz evening was an veritable success! Many thanks to the Quizmasters, Geriant and Meinir, for organising it all, and to all who 'attended'. The winners were Sianelen, Kelvin and Ifan Pleming of Llithfaen.
---
Our annual Carol Concert was quite amazing this year!
The auditorium was packed and all were expecting an evening of carols in the company of Pwy 'sa'n 'meddwl under their conductor cum accompianist Gwenda. We did enjoy the carols, yes, but we also were entertained with Welsh pop classics, mostly with with a local flavour, and even some sea shanties ! Quite appropriately the translation of the singing party's name is 'Who would have thought it! It was a most enjoyable experience, and the refreshments were also appreciated by all. Many thanks to our volunteers for their help on the evening, to Janet Hughes for organising the event (including the decorations), to Cynefin for their sponsorship, and of course a big thank you to Gwenda and Pwy sa'n meddwl.
August Evening Events commence this week!
This Thursday evening, August 8th our museum is the place to be. We are pleased to welcome Peter Day of Moelfre, Ynys Món (Anglesey) who will give a talk in English on the wreck of the royal yacht Mary, lost at sea in 1675, and found anew in 1971 !
A story worth hearing. Talk begins at 7.30pm, Admission £3, please come early and peruse our excellent shop and maybe take refreshments with us... Croeso cynnes i bawb.
Book Launch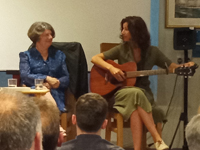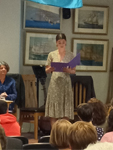 Ann Pierce Jones, a local lass, chose our lovely museum as the location for the launch of her latest novel, 'Glasynys'. Catrin Beard skilfully discussed the work with Ann, extracts from the novel were read by Lois Elenid ( Ann's niece) and musical entertainment was provided by the talented twm Morys and Gwyneth Glyn; this was an excellent evening for all, and well attended. Many thanks to Gwasg y Bwthyn, Llen Llyn, and of course our volunteers who helped in the kitchen.
We look forward to holding similar events in the future, so watch this space!
School Visits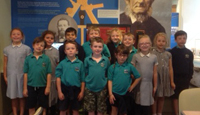 We love to have children here in the museum, and especially groups of school children. Recently we welcomed pupils from Ysgol Nefyn and Ysgol Morfa Nefyn who came to learn about the history of local shipwrecks. it's easy to arrange a visit- just contact the museum.
(Picture of pupils of Ysgol Morfa Nefyn).
We also had a visit from a school in Shotton, a group of pupils called in on their pilgrimage by mini-bus, and gave us an impromptu concert- look for the video is on our facebook ! Da iawn, St Ethelwood's CoE primary school."
Kids in Museums Take - Over Day Scheme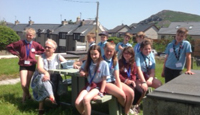 We were proud to take part in this nationwide scheme for the first time on June 28th. We worked in partnership with children and staff of Ysgol Tudweiliog. Twelve pupils came and took over the running of the museum for a day, which was quite an experience ! They brought with them an art and craft exhibition, a film on the incredible but true story of Twm and Jac (devised, acted and produced by the school), a choice of computer quizzes in two languages, and some delicious cakes to sell in the cafe.The children rose to every task- setting up the exhibition, opening the doors, guiding visitors around the museum, helping in the shop and cafe, this was a real hands-on experience! The pinnacle of the day was the live performance of a Rap, composed by the children on the theme of the shipwrecked Stewart.
Many thanks to the staff and pupils of Ysgol Tudweiliog for their cooperation in staging this event.
Who's going to come and take over Amgueddfa Nefyn next time?
Group Visits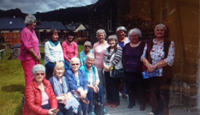 We are also always pleased to welcome group visits of all ages and interests, from near and far.
We tailor your visit to suit your requirements; a presentation or short talk, film, refreshments can be arranged, or you may choose just to wander around our showcases and displays. This year has not seen many English medium visits, so I would like to assure you that we do provide all our services in both languages. What about arranging a visit as part of your 2019-20 programme? We look forward to seeing you soon.
Picture : A group of ladies (Merched y Wawr) from Talsarnau Meirionnydd on their recent visit here.
Rhaglen Gweithgareddau Haf 2019 (Welsh only)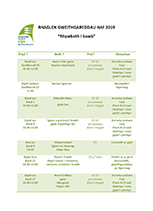 Click here for more information
Captain Meinir Pierce Jones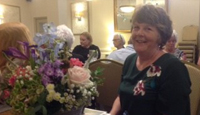 This museum has undergone a veritable reformation and transformation in the past years, under the skilful leadership of Meinir. We were all very proud to have the opportunity recently to thank her for all her hard work and inspiration.
Over thirty friends and volunteers of the museum gathered in the Nanhoron Hotel to present Meinir with a specially commissioned framed painting of St Mary's Church as a token of our gratitude. Diolch yn fawr, Meinir- and we look forward to seeing you back at the helm soon !
Give Welsh a Go Sesiwn Sgwrsio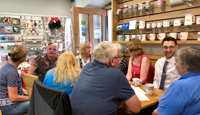 A new venture here at the Museum is the monthly 'Sesiwn Sgwrsio' for learners of Welsh. If you've ever learned a new language you know how important it is to have an opportunity to use that language in the big world. The joy of ordering a croissant at the local boulangerie ! Come to these sessions and enjoy 'siarad Cymraeg' – no lessons, no criticism, just a chance to speak, siarad. Informal and friendly, do come along and 'give Welsh a go'. Croeso mawr.
Next sessions:
Saturday August 31 ; Saturday September 28, October 26, 11am.

Our Wonderful Volunteers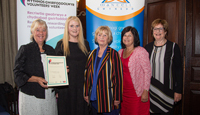 This museum is run mainly by a crew of faithful volunteers, who give their time to promote and help keep everything ship-shape. The whole crew were nominated and highly praised for their service at the recent Mantell Gwynedd Volunteers' Week Award ceremony held at Portmeirion, although it was only possible to send three of them (names chosen out of a hat) to receive the Certificate. We need especially to thank Val Wynne Jones for her work- she is responsible for making up the monthly rota.
Da iawn chi!
WANTED : We need new volunteers. If you have a few hours to give to us, please get in touch. Training given, this is a great opportunity to socialize and support your local museum.
Picture : Dilys Williams, Gwyneth Jones and Margaret Roberts, representatives of the "Criw Gwirfoddolwyr yr Amgueddfa" with Val in the Award Ceremony
Arddangosfa dros dro (Welsh only)
Mae'r arddangosfa Porthladdoedd coll wedi dod i ben - Diolch i bawb a ddaeth i weld yr arddangosfa arbennig hon, ond mae ar ei ffordd yn ól i Abertawe erbyn hyn. bydd arddangosfa arbennig arall ar ddiwedd yr haf, pryd y byddwn yn olrhain datblygiad y diwydiant twristiaeth yn Nefyn a'r ardal.... rhywbeth i edrych mlaen ati.
Children's Activities
Most of our popular children's summer holiday activities are fully booked ! We also have a reserve waiting list. Thank you all for your support for all our activities.
LOST PORTS EXHIBITION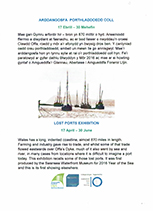 17 April- 30 June
This exhibition recalls some of those lost ports. It was first
produced by the Swansea Waterfront Museum for 2016 Year of the Sea and this is its first showing elsewhere..
Click here for more information.
Hidden Gem Accolade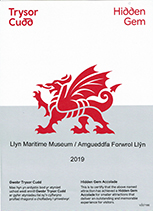 Click here for more information
Angels of Wales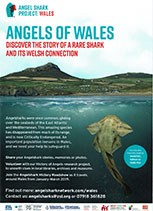 On January 25th and 26th Angels of Wales road show, featuring the history of the rare angelshark, will visit the museum at Nefyn. Come along to share your angelshark stories, memories and photos.
All welcome. Free entry, tea and coffee available.
10.30am-4pm
Click here for more information