Volunteer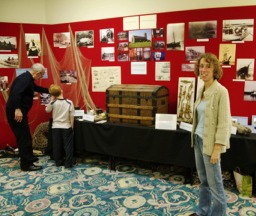 Volunteers are the lifeblood of the museum. Can you volunteer with us?

We are always looking for new volunteers to help with the season from Easter to Thanksgiving.

Why not volunteer for one session each week (or every other)?
For 2.5 hours or 3 in the morning or in the afternoon, to welcome visitors or help in the shop or on reception? You can bring a friend if you want to.

There are plenty of opportunities to get involved if you don't want to work with the public, for example gardening, cleaning and collection research.

We are a welcoming, enthusiastic and fun group. So get involved!
This is what some of our volunteers had to say about their experience of volunteering with the museum:
"It's a great way to make friends, learn new skills and improve self confidence"

"Through volunteering with the museum I have met very interesting people. People I wouldn't come across otherwise. In seeing the enthusiasm and passion that some people have got is inspirational"

"The volunteers are a fun and friendly bunch"

"I feel that I have contributed towards my community and enjoyed it because of my interest in history"

Volunteer application form - click here
To view more photos - click here