News
Historical Walk through Nefyn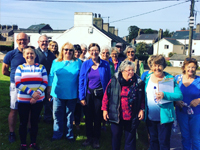 Our Capable Captain Meinir.
The sun shone for the crew of voyagers that ventured- on dry land- to discover more about Nefyn's maritime history recently. Led by our experienced captain, Meinir Pierce Jones, the morning's historical walk through the town was well enjoyed by all. We will be holding more, so watch this space !
Picture: Participants at the start of the walk


On Pilgrimage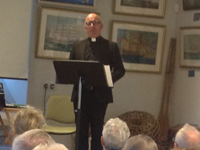 On Thursday 22nd of August Andrew Jones, Llanbedrog, was our guest speaker. A full auditorium thoroughly enjoyed his talk on various aspects of pilgrimage: past and present, east and west, place and space, not forgetting our local pilgrim routes, as he shared his extensive research with us. We look forward to reading more in your next book, Andrew.
Picture: Andrew Jones entertaining a captive audience.
A busy afternoon at the museum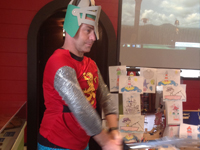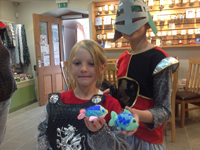 We welcome all here at our happy museum, individuals, families, groups, all ages and nationalities. Here we share two photos of visitors who called in and stayed a while last Wednesday
1. An extrovert learner of Welsh who lives in Winchester, and was on a residential course over in Nant Gwrtheyrn. (never seen an adult take on the dressing up clothes in the cabin before!) We have a very good relationship with Nant Gwrtheyrn and regularly have groups of Welsh learners who enjoy learning about our rich history and using their Welsh here.
2. Two sisters who came with their parents and thoroughly enjoyed the extensive activities that are available for youngsters here - quizzes, colouring, hands-on displays, dressing up, identifying smells, and even painting polystyrene fish!
With the summer holidays almost over - come on, come and visit us, kids ! (we also have pocket-money presents and yummy ice cream!)

Emergency First Aid Course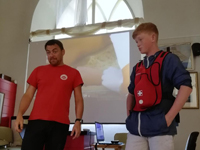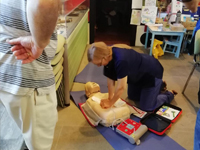 We always strive to look after our many visitors and that includes being ready to help in an emergency.
A number of our staff undertook First Aid training recently, an event jointly arranged by the Heliwr, (thanks, Bethan) and held here at the museum.
Of course we hope that nothing will happen, but best to be prepared....
Picture 1 : on the left, Marc Jones of Penrhyndeudraeth our instructor, about to demonstrate how to deal with air passage blockage
Picture 2 : Staff practising CPR

Raffle
Remember to buy your tickets for our yearly raffle, available at the museum. Super prizes!
August evening talks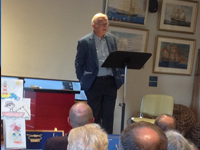 Our Welsh talk held on 15th was most successful with the auditorium full to hear the former archivist of Gwynedd, Gareth Haulfryn Williams, give a masterful and interesting exposé on the early development of the maritime trade industry in Llyn. Instant translation was porvided by Eleri Llewelyn Morris.
Gweithgareddau Plant (Welsh only)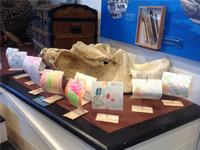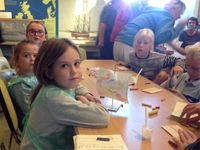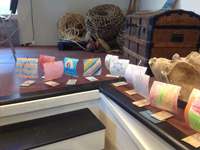 Mae ein rhaglen o weithgareddau amrywiol i blant oed cynradd dros y gwyliau haf wedi bod yn llwyddiant ysgubol eleni. Mae pob sesiwn wedi bwcio'n llawn ac y mae rhestr wrth gefn hefyd! Diolch yn fawr i bawb am gefnogi'r amgueddfa, i Val Wynne Jones am drefnu rhaglen amrywiol gwych, ac i bawb sydd yn cynnal y sesiynau hwyliog hyn.
Pictures : A fleet of colourful sailing boats made by children under the instruction of Margaret Taylor-Hill.

Hwyl a sbri diolch i Hunaniaith (Welsh only)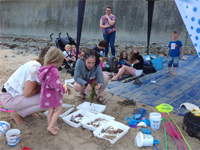 Helfa Natur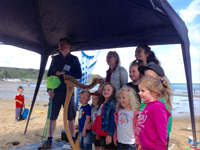 Parti canu ar y traeth
Castell tywod wedi ei addurno
Daeth criw o deuluoedd i draeth Nefyn i fwynhau gwledd o weithgareddau yn Gymraeg, wedi eu trefnu ar y cyd gyda Hunaniaith, sef Menter Iaith Gwynedd. Bu'r plant yn mwynhau gemau ar y traeth a helfa natur gyda Lea Connolly, cyn cael picnic. Ar ôl cinio daeth Gwenan Gibbard a'i thelyn i ganu casgliad o siantis mor a chaneuon eraill. Diolch i bawb, yn enwedig Ifan Llewelyn am y trefniadau.
Dechrau da i sgyrsiau Awst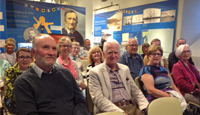 A very entertaining evening was had by all who came to listen to the deep sea diver and maritime historian Peter Day at the museum recently. Do come along to one of our August Talks - see the main programme - all are wlecome.
Teulu'r Traeth Event! (Welsh only)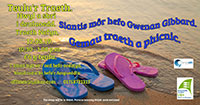 Click here for more information
August Evening Events commence this week!
This Thursday evening, August 8th our museum is the place to be. We are pleased to welcome Peter Day of Moelfre, Ynys Món (Anglesey) who will give a talk in English on the wreck of the royal yacht Mary, lost at sea in 1675, and found anew in 1971 !
A story worth hearing. Talk begins at 7.30pm, Admission £3, please come early and peruse our excellent shop and maybe take refreshments with us... Croeso cynnes i bawb.
Book Launch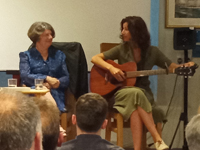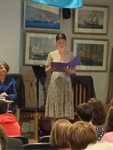 Ann Pierce Jones, a local lass, chose our lovely museum as the location for the launch of her latest novel, 'Glasynys'. Catrin Beard skilfully discussed the work with Ann, extracts from the novel were read by Lois Elenid ( Ann's niece) and musical entertainment was provided by the talented twm Morys and Gwyneth Glyn; this was an excellent evening for all, and well attended. Many thanks to Gwasg y Bwthyn, Llen Llyn, and of course our volunteers who helped in the kitchen.
We look forward to holding similar events in the future, so watch this space!
School Visits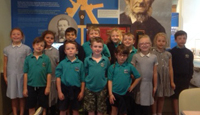 We love to have children here in the museum, and especially groups of school children. Recently we welcomed pupils from Ysgol Nefyn and Ysgol Morfa Nefyn who came to learn about the history of local shipwrecks. it's easy to arrange a visit- just contact the museum.
(Picture of pupils of Ysgol Morfa Nefyn).
We also had a visit from a school in Shotton, a group of pupils called in on their pilgrimage by mini-bus, and gave us an impromptu concert- look for the video is on our facebook ! Da iawn, St Ethelwood's CoE primary school."
Kids in Museums Take - Over Day Scheme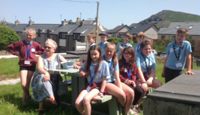 We were proud to take part in this nationwide scheme for the first time on June 28th. We worked in partnership with children and staff of Ysgol Tudweiliog. Twelve pupils came and took over the running of the museum for a day, which was quite an experience ! They brought with them an art and craft exhibition, a film on the incredible but true story of Twm and Jac (devised, acted and produced by the school), a choice of computer quizzes in two languages, and some delicious cakes to sell in the cafe.The children rose to every task- setting up the exhibition, opening the doors, guiding visitors around the museum, helping in the shop and cafe, this was a real hands-on experience! The pinnacle of the day was the live performance of a Rap, composed by the children on the theme of the shipwrecked Stewart.
Many thanks to the staff and pupils of Ysgol Tudweiliog for their cooperation in staging this event.
Who's going to come and take over Amgueddfa Nefyn next time?
Group Visits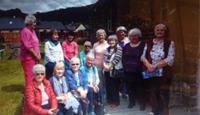 We are also always pleased to welcome group visits of all ages and interests, from near and far.
We tailor your visit to suit your requirements; a presentation or short talk, film, refreshments can be arranged, or you may choose just to wander around our showcases and displays. This year has not seen many English medium visits, so I would like to assure you that we do provide all our services in both languages. What about arranging a visit as part of your 2019-20 programme? We look forward to seeing you soon.
Picture : A group of ladies (Merched y Wawr) from Talsarnau Meirionnydd on their recent visit here.
Rhaglen Gweithgareddau Haf 2019 (Welsh only)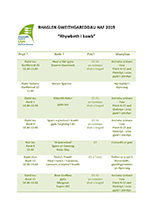 Click here for more information
Captain Meinir Pierce Jones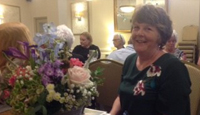 This museum has undergone a veritable reformation and transformation in the past years, under the skilful leadership of Meinir. We were all very proud to have the opportunity recently to thank her for all her hard work and inspiration.
Over thirty friends and volunteers of the museum gathered in the Nanhoron Hotel to present Meinir with a specially commissioned framed painting of St Mary's Church as a token of our gratitude. Diolch yn fawr, Meinir- and we look forward to seeing you back at the helm soon !
Give Welsh a Go Sesiwn Sgwrsio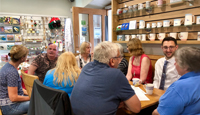 A new venture here at the Museum is the monthly 'Sesiwn Sgwrsio' for learners of Welsh. If you've ever learned a new language you know how important it is to have an opportunity to use that language in the big world. The joy of ordering a croissant at the local boulangerie ! Come to these sessions and enjoy 'siarad Cymraeg' – no lessons, no criticism, just a chance to speak, siarad. Informal and friendly, do come along and 'give Welsh a go'. Croeso mawr.
Next sessions:
Saturday August 31 ; Saturday September 28, October 26, 11am.

Our Wonderful Volunteers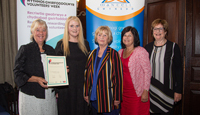 This museum is run mainly by a crew of faithful volunteers, who give their time to promote and help keep everything ship-shape. The whole crew were nominated and highly praised for their service at the recent Mantell Gwynedd Volunteers' Week Award ceremony held at Portmeirion, although it was only possible to send three of them (names chosen out of a hat) to receive the Certificate. We need especially to thank Val Wynne Jones for her work- she is responsible for making up the monthly rota.
Da iawn chi!
WANTED : We need new volunteers. If you have a few hours to give to us, please get in touch. Training given, this is a great opportunity to socialize and support your local museum.
Picture : Dilys Williams, Gwyneth Jones and Margaret Roberts, representatives of the "Criw Gwirfoddolwyr yr Amgueddfa" with Val in the Award Ceremony
Arddangosfa dros dro (Welsh only)
Mae'r arddangosfa Porthladdoedd coll wedi dod i ben - Diolch i bawb a ddaeth i weld yr arddangosfa arbennig hon, ond mae ar ei ffordd yn ól i Abertawe erbyn hyn. bydd arddangosfa arbennig arall ar ddiwedd yr haf, pryd y byddwn yn olrhain datblygiad y diwydiant twristiaeth yn Nefyn a'r ardal.... rhywbeth i edrych mlaen ati.
Children's Activities
Most of our popular children's summer holiday activities are fully booked ! We also have a reserve waiting list. Thank you all for your support for all our activities.
LOST PORTS EXHIBITION
17 April- 30 June
This exhibition recalls some of those lost ports. It was first
produced by the Swansea Waterfront Museum for 2016 Year of the Sea and this is its first showing elsewhere..
Click here for more information.
Hidden Gem Accolade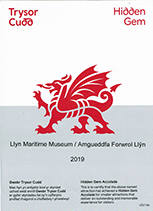 Click here for more information
Angels of Wales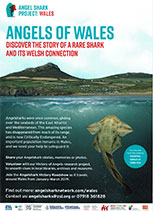 On January 25th and 26th Angels of Wales road show, featuring the history of the rare angelshark, will visit the museum at Nefyn. Come along to share your angelshark stories, memories and photos.
All welcome. Free entry, tea and coffee available.
10.30am-4pm
Click here for more information