Exhibitions
Holidays around Nefyn, past and present - October 2019
Our next exhibition will be held in October 2019. The planned title is 'Holidays around Nefyn, past and present'. We aim to provide you with a good display of photos and artifacts to show the development of the tourist industry in the area. A good way to finish off the summer season, rain or shine !
More details soon.
Exhibition of Old Photographs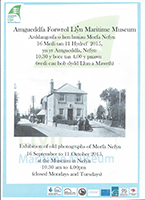 Exhibition of Old Photographs of Morfa Nefyn
16 September to 11 October 2015
Click here for more information

Rediscovering the Cyprian exhibition (Llŷn Coastal Festival 2013)
Between August 8-22 2013, Llŷn Maritime Museum and Heritage Centre held an exhibition at our Summer Centre, Y Groes, Nefyn about the famous shipwreck SS Cyprian which sank off Penrhyn Cwmistir, Edern in October 1881. The wreck is famous for the act of heroism by the Captain, John Alexander Strachan, who died whilst saving a young stowaway, John William Klahn, from the wreck.
'Rediscovering the Cyprian' provided the most comprehensive exhibition to date, including both artefacts and documentation, and new research.

New exhibitions coming soon including The First World War! – click here